Married to Amazement
October 16, 2022, at 10:00 a.m.
Online
and in-person
Reverend Sharon K. Dittmar
We are routinely encouraged to live in the present. Though most of us, myself included, spend a fair amount of time working through the past or imagining the future. Centering oneself in the present is a choice. What do we miss when we live in the past or future? What gifts might we find if we choose to remain in the present? How can we center ourselves in the present when we are scared or afraid and what might we discover if we do?


Reverend Dittmar graduated from Harvard Divinity School in 1997. She served one year as Interim Minister at the Gathering at Northern Hills (Cincinnati, OH 1997-1998), and eighteen years as Minister at First Unitarian Church of Cincinnati (1998-2016). Since 2016 she has worked as Congregational Life Field Staff with the MidAmerica Region of the UUA. She is primary contact for thirty one program sized congregations in the MidAmerica Region and specializes in vibrant congregational cultures, Board and lay leadership development, conflict transformation, stewardship, as well as congregational management and supervision. She has three grown children, a husband, too many household projects, and a love of gardening, though not nearly enough understanding about how green things grow (and too often die).
We will Share the Plate with Side with Love
Through our
Side with Love
campaign (formerly "Standing on the Side of Love") we amplify the voices of the oppressed through online media; we show up in partnership at justice events across the country; we lobby national leaders on immigration reform, racial justice, equality for lesbian, gay, bisexual, transgender, and queer people, religious freedom, and more; and above all we work to make love real in the world.
Click Here to Donate
Happy Birthday to: Bill Schuyler (10/11), Jesse Parker (10/13), Kevin McAllister (10/16), Kathy Jones (10/18), James Rentz (10/18), & Tom Walsh (10/18)!
Volunteers for Sunday, October 16
Ushers: Dick Lake & Myrna Lake
Greeters: Seth Wiggins & We Need 1 More Volunteer
Guest Table: Jami Edmonds & Neita Webster
Coffee Hosts: We Need 2 Volunteers
Please note that if you volunteer for coffee host you will need to clean up afterward and run the cups through the sanitizer.
Reminder to coffee hour hosts: please make sure the heater is off and the machine master switch is off when you leave. Thank you!
Sign Up Here
Thank you!
Photos of the Week!
Check out our new fall display in the sanctuary!



So much fun with Anchantris Diamonds at Drag Queen Story Time last week!

Soul Matters Groups
Soul Matters group are a small group of members and friends who listen deeply to one another to help each person connect to their lives, inner wisdom, and one another.
We have Openings in the following groups:
2nd and 4th Thursdays/month at 4pm on Zoom

Tuesday evening at 6:30pm In Person
*Stop by the Guest Table to learn more and to sign up. Email
Revjoycepalmer@yahoo.com
Wonderful Wednesday Anatomy of Transition
Wednesday, October 19, 6pm in the Library and Online

When facing significant change, fear can sometimes make it more difficult. Transitions often require courage to override our fear. Join Rev Joyce for a conversation on the various types of transitions and how we can celebrate the journey.
Join Zoom Meeting
https://us06web.zoom.us/j/86460304384?pwd=eWhSQms4YTlaMG52R25kb21OTWkzQT09

UUA Common Read Discussion Wednesday, October 26 7pm Online
Discuss Part II: Visions of Safety in Defund Fear by Zach Norris
We will discuss the practice of criminalizing children, define crime and harm and move toward finding better ways to ensure our safety. You are welcome to attend even if you haven't read the book.
Join the discussion using this link:
https://us06web.zoom.us/j/83902434764?pwd=eVZHTTRRcS82Y29mR3F2U0RaWW11UT09

Make your NPR Donation thru the Church

It's that time of the year. Every 20 minutes, WNIJ has 10 minutes of fundraising announcements. Drives me crazy.

If you are reminded to donate to WNIJ, and plan to mail them a check, STOP.

Instead, write a check to the church. In the check memo line, note WNIJ – NPR. Here's why you might consider making your donation this way. The church will gather up your individual donation checks, and write a larger check in the church's name to WNIJ. In return for the church donation, WNIJ will air some of those public service announcements publicizing our church.

Did you ever wonder how our church gets those PSA announcements onto the air?

To those who like to sew and would like to make a 12 1/2 inch quilt block for comfort quilts for church members who are being treated for cancer. Sometimes they spend long periods undergoing medical treatment. The comfort quilt reminds them of the love and care coming from their quilt. Contact Sandi Campbell if you are willing to help make comfort quilts. Let's spread more comfort and love. Sandi 815-997-6891.
WINNEBAGO COUNTY RESOURCES

List of resources that may be helpful to you or someone you know.

VICTIM/SURVIVOR SERVICES
Family Peace Center – 1-779-348-7600
Remedies Renewing Lives – 24-hour Domestic Violence Hotline – 1-815-962-6102

OLDER ADULT SERVICES
Catholic Charities Long Term Care Ombudsman Program – 1-815-316-0040 or 1-800-369-0895
Mercyhealth at Home/Older Adult Services – 1-815-971-3502
Lifescape Community Services – 1-815-963-1609 or 1-800-779-1189

SERVICES/ADVOCACY FOR PERSONS WITH DISABILITIES
Center for Sight and Hearing – 1-815-332-6800 P
RAMP – 1-815-968-7467
The ARC – 1-815-965-3455
Memorial Patio Update
As part of the work to rebuild the Memorial Patio we would like to encourage members who want to order a memorial brick for a loved one who has died to submit a form with the information needed for inscription. We realize that there have been a number of deaths since bricks were last ordered and we would like to catch up as much as we can during this rebuilding phase. Please note that there is no need to do new forms for anyone who already has a brick in the current patio.

Forms are available from the church office or you may click the button below to print out the form at home. They should be submitted to the office. Our current policy is that bricks are engraved at no cost for members of the church. The engraving fee is $50/brick for non-member children, parents, spouses and life partners of members and $130 for former members and friends of the church. Payment should be made to the office.

If you have any questions about the orders or the patio please contact Pat Lewis at
pryanlewis@gmail.com
.
Eliminate Racism 815
Film Discussion
Friday October 14, 2022
6:30 p.m.
BIG NEWS! WE ARE GOING IN PERSON!!!!
Starting next month, we will no longer show films on zoom! We will show the film at The Baha'i Center in person with a facilitated discussion after the showing of the film. October 14 we will show the film Antisemitism in Four Mutations: Antisemitism in the US & Europe is worsening in ways not seen since the 30s, mutating across cultures, borders, and ideologies. Join us at the Baha'i Center 1650 N Alpine: Lower level in Highcrest Shopping Center. Please note that the meeting time will be 6:30, not 6:00 p.m. the way the zoom viewings were. Popcorn will be provided. The film discussions are presented in partnership with The Baha'i Community of the Rockford Area and Rockford Public Library.

Book Discussion
Thursday, October 27, 2022, 6:00 p.m.
Join us by zoom for a discussion of The Vanishing Half by Brett Bennett: Identical twin sisters grow up in a southern Black town. Years later, one sister lives with her Black daughter in the same southern town & the other secretly passes for white. Separated by so many lies, the fates of the twins remain intertwined.

Please read the book on your own and we will discuss it.
Join the Zoom Meeting here:
https://us02web.zoom.us/j/81211275487
Book discussions are presented in partnership with Rockford Public Library.
UUANI
Join UUANI for a statewide VoteLove IL Democracy

Celebration 2022 at 12:30pm on Sunday Oct 16

.

This is an opportunity to connect with UUs across the state and do a final round of action as we go into the home stretch. We'll hear from UUtheVote National Campaign Manager JaZahn Hicks, and zoom from from congregation to congregation for brief lively reports on how UUs have been getting out the vote across the state. Then we'll do some final postcard writing and text banking.

Register here.
VoteLove IL
Illinois has a UU advocacy organization, UUANI, the Unitarian Universalist Advocacy Network in Illinois. Rev. Scott Aaseng, one of its directors, led our justice mission several years ago.

Voting is our principal method of exerting power as individuals, and as a congregation. Join The other Illinois congregations in celebrating Democracy on Sunday, October 19th via Zoom at 12:30 pm, sponsored by UUANI.

One speaker will be JaZahn Hicks, the National Campaign Manager of the UUtheVote campaign of the UUA. Each congregation will share its actions in getting out the vote in Illinois. We will participate in writing postcards and text banking.

Register to attend the event and receive the link at:
https://uuani.salsalabs.org/democracycelebration2022/index.html
Submitted by Teresa Wilmot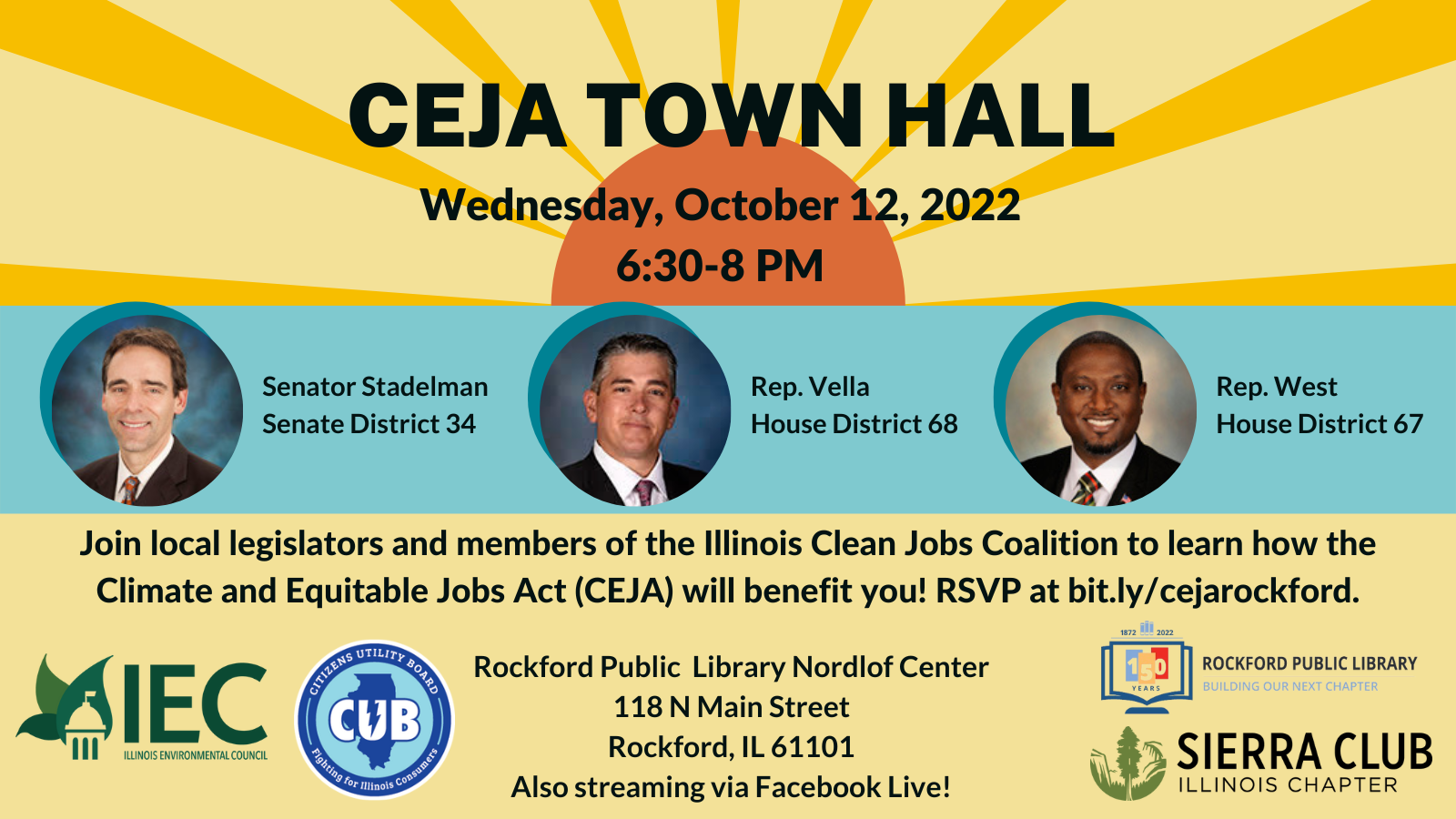 CEJA Town Hall with Representatives West, Representative Vella, and Senator Stadelman
Wednesday, October 12 @ 6:30 pm
The Nordlof Center – 118 N Main Street, Rockford
Also streaming on facebook
RSVP here
Sponsors: Sierra Club Illinois, Citizens Utility Board, Illinois Environmental Council, Rockford Public Library
We'll hear from legislators, local leaders, and subject matter experts who will cover the following topics:
What's in the Climate and Equitable Jobs Act, and how did we pass it?

How can households take advantage of energy efficiency and clean energy benefits?

How can local schools tap into resources to make their operations carbon-free AND save money?

When will Rockford get its clean energy jobs hub, and what can we do to expedite the process?
We hope you can join us!
The Board of Trustees:
President: Judy Gustafson
Clerk: Bob Spelman
Vice-President: Spitty Tata
Treasurer: Steve Blomgren
Trustees: Shoko Chien, Sarah Greer, Jami Edmonds
The Unitarian Universalist Church, Rockford, IL | 4848 Turner St., Rockford, IL 61107 | 815-398-6322 | uurockford.org |
Copyright © *|CURRENT_YEAR|* *|LIST:COMPANY|*, All rights reserved.
*|IFNOT:ARCHIVE_PAGE|* *|LIST:DESCRIPTION|*

Our mailing address is:
*|HTML:LIST_ADDRESS_HTML|* *|END:IF|*

Want to change how you receive these emails?
You can update your preferences or unsubscribe from this list.

*|IF:REWARDS|* *|HTML:REWARDS|* *|END:IF|*